Last week I was walking through a craft store when I came upon a bin of cardboard/papier-mâché animals. There were several animals but I was instantly drawn to this little pig. He was only $.99 so I had to have him.
Why did I need this little cardboard pig? Because I knew he would make the perfect faux ceramic animal. You may have noticed that ceramic animals (particularly white ceramic animals) are super trendy. And since I am not original (no one really is) I'm completely on board with this trend. I have several ceramics around my house:
my greyhounds from Target,
and
my ceramic paper plane
also from Target. While I obviously love ceramic objects, it gets expensive buying them. For example, I am obsessed with these Jonathan Adler
head planters
but they are $300 so that's not going to happen.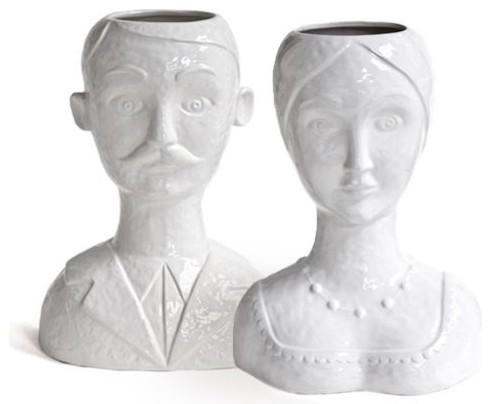 That is why when I spotted this little pig I knew he would make a good faux ceramic animal to add to my ever growing collection.
Here he is all painted. I just used white paint I had on hand. No priming or sealing, just straight up white acrylic paint and truth be told, I didn't even do a second coat. Next time I buy semi-gloss white spray paint he'll probably get a coat of that, but right now I used what I had and I think he looks great.
The best thing about this project is that it only cost me $1.06 with tax! That is a very cheap ceramic animal since they tend to be about $15-30 each. I had paint on hand so if you don't have paint you'll have to buy that but otherwise it is a super cheap project. You can get this look with lots of other objects like
kids plastic animals
,
garden statues
,
thrift shop glass vases
, or
plastic fruit.
So are you in the buy-it or the DIY-it camp? So far I have a mixture of both, which works perfectly for me.