Archives For inspiration board
This is my bedroom as of September 2013, enjoy!
All photos are courtesy of Ashley a. Photography, thanks Ashley!
This is my living room as of September 2013, enjoy!
All photos are courtesy of Ashley a. Photography, thanks Ashley!
In previous 'trend spotting' posts (
here
and
here
) I went with less obvious trends, but this trend is pretty easy to spot. Brightly colored front doors are nothing new but bright orange doors have been popping up everywhere these days. And I have to say, I'm a big fan!
All images via my 'Outdoor Spaces' board on Pinterest here.
It is very possible that I love this trend so much because I can't paint my front door. I know what you are thinking, why can't you paint your front door? It is because I live in a historical home in a historical neighborhood and we are strongly encouraged to leave any original exterior elements as is. My front door is lovely so I shouldn't complain…
but wouldn't my door looks so nice painted a bright orange??? I think it would look amazing, but alas it is not meant to be. So for now I will just dream of orange doors and encourage others to go big and bold with their exterior paint colors.
There have been a few times in my life where I find a piece of art that speaks to me so deeply that I can't stop thinking about it. That happen a few months ago when I saw a series of photographs that look like melted paintings. They were created by Nick Knight a fashion photographer who spent 10 years taking the photographs to create these prints. I'm not sure I can explain why I love these pieces so much, but I don't think you have to put into words why art speaks to you, so I won't try. I'll just let the art speak for itself.
Unfortunately, these pieces are only showing in London and there are no prints available at this time. But maybe some day they will offer prints and I will buy one and my life will be complete. Just kidding. Sort of.
I mentioned in my last craigslist post that I recently sold three things, I sold the red chair and glass coffee table from the living room but I've kept mum about the third thing until now… I sold the black bookcase in my bedroom!
For a refresher, this is the bookcase I want:
It will go in the dining room on the big blank wall:
That big wall to the right (it's bigger than it looks, from the end of the frames to the corner of the room is about 8′) is where the new bookcase will go. So the bottom line is this: I sold the black bookcase so I can use the money to help buy the bigger white bookcase for the dining room.
But, I haven't purchased the white bookcase just yet so for the time being this is what's going on in my room. First it was a blank wall (I took the silver shelf to the basement to use for laundry and cleaning supplies):
The other side of my room was cray. I own a lot of books.
What you may not be able to see is that there are three large tubs hidden under there full of books. Yeah… I have a lot of books.
Since I haven't planned my trip to IKEA yet and I don't want to leave my books like this any longer (it was sort of suffocating in there) I came up with a temporary solution.
I'm going for a sort of 80-year-old-professor-of-English-Lit-who-has-traveled-the-world-and-been-married-seven-times vibe. Are you feeling it? Now that I think about it, said woman would probably have more Proust and less young adult fiction… ah, well.
I started by stacking the big books first, mostly photo albums and yearbooks (why do I keep those?).
Then I gradually added books.
Here is the view from the doorway. It feels so open in there now! I'm sort of loving it. I don't have plans for that wall yet. My goal is the get the bookcase for the dining room, move these books onto the dining room shelves, and then deal with this wall.
I stacked these up yesterday and so far Bob hasn't bothered them. The likelihood of one of these stacks falling over is high, I mean it is just books stacked up like three feet high so yeah, not foolproof or anything, but so far so good.
I also added a little stack by my nightstand of the books I haven't read yet.
Also, I got rid of two huge tubs of books! Yep, I'm pretty proud of that. I was super selective with what I kept. I know I'm about to buy a huge bookcase, but I have so so many books that even getting rid of two tubs means I still have all these books left over. If you are curious as to what I kept and what I got rid of here was my criteria:
1) Will I read it again? The answer was 'yes' a surprising amount of times. There are about 30-ish books that I re-read regularly, as in either once a year or bi-annually.
2) Is it pretty? A shallow question, but some books are just so pretty that I had to keep them. I have a lot of very beautiful books that I probably won't ever read again, but they are pretty enough to keep around (to use for styling).
3) Is it sentimental? A lot of my books have sentimental value. Either they were gifts from loved ones, books from my childhood, or they remind of a specific time in my life. People are sentimental about all kinds of things and I am sentimental about books.
So that is my 'in progress' update on the bookcase situation. I'll keep you posted!
Do you ever look at Pinterest and see reoccurring trends? Over the past few months I've noticed several pins featuring the Swiss cross. Famous for being on the flag of Switzerland and the symbol for the Red Cross, the Swiss cross is a clean and bold symbol. I love patterns that are strong and simple (like chevron or thick stripes) so the Swiss cross fits right into my aesthetic. Bonus points for it being most often in black and white, my favorite color combination.Let's have a look, shall we?
I can't tell if this backsplash is paint or tile, but either way I like it.
This garland would be a cute and simple way to incorporate this trend.
This is the image that got me thinking about this trend. I love the bright yellow. This would be a basically free project (you could use whatever paint you have on hand) and it would have such a big impact.
This is actually chalkboard paint and they just made little Swiss crosses all over it to give it a wallpaper look. Love it!
I'm not sure if that back wall is wallpaper or a stencil but either way I like it. Double like for it being mixed with the bold stripes.
This is actually an IKEA hack. The medicine cabinet came plain white and they painted a Swiss cross on it. Since this cross is an international symbol of health care it's funny that it's on a medicine cabinet.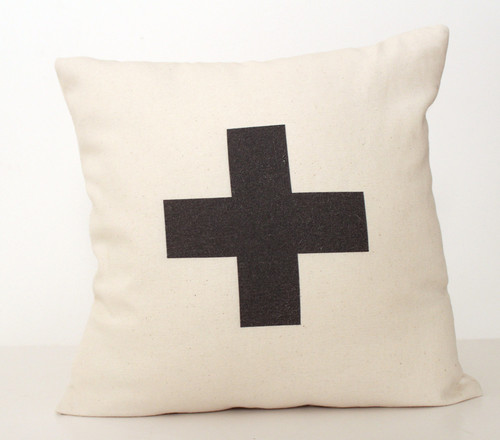 This is one of my favorite interior designs ever.
What do you think? Are you into the Swiss cross? I love it! I'm going to keep my eye out for something with the symbol on it or maybe just I'll make something that features the cross… or maybe I'll just go to Switzerland. Anything could happen!
Sometimes when I talk to people about this blog they say, "Aren't you going to run out of projects at your house to blog about?" Because my house is small and for the most part completely decorated, I understand their question, but the answer is always 'No.' A few weeks ago I did a post showing the 'before' and 'current state' of my house where I listed out what I've accomplished so far and what I hope to do in the future, but that isn't where the list ends. I don't consider myself an artist, but allow me to use the analogy that I'm an artist and my house is my canvas and for that reason I don't think I'll ever be able to consider this house finished. So here is a run down of what looks done but in my mind is not done and may never be.
Bedroom bookshelves:
I'd like to get a parson's desk and add a large cork board or art above it. I haven't had a desk in years and I don't need one to sit at, but it would be nice to have a place to organize and store 'officey' stuff. But we'll see, I'm always changing my mind about this sort of stuff.
The Living Room Tables:
If you count, there are two side tables and a coffee table in here and I hate them all. Actually that's not true, I hate two out of three. The left side table is Lack table from IKEA that cost $7.99 and it serves it's purpose but it's boring. The coffee table was $30 on clearance from IKEA and I feel the same way about it. I like the table on the right because it's from CB2 and it opens up like an old school desk but it looks sort of weird where it is. I like the mismatched look (they are all different styles but since they are all white they work together) but I'd like to upgrade in the future.
Maybe a coffee table like this?
And maybe something like this for a side table?
Or this?
What I have now is just place holding for better stuff so I'm always on the look out for a the perfect replacement.
TV Stand Area:
I love this dresser and the lamps and the harp and the TV, but how it is set up now is a little bland. My plan is to hang the TV (I have the mount I just haven't attempted to do it myself yet) and possibly hang art around it, like this:
Or this:
Considering I already have the TV mount this project should be completed soon but I've had it for over two months now and it hasn't even made it to my to-do list so maybe not.
Dining Room:
Things I hate in this room: dining room table, gallery wall, wall color, and IKEA credenza.
Things I love in this room: postcard art, light fixture, and the curtains.
I'm thinking about painting the room a lighter color and simplifying the gallery wall and since I can't afford a new table maybe I'll get a tablecloth or something. I'm thinking of going with a lighter color like this:
Or this:
Do you feel the same way about areas of your house? Or am I just too picky?
My kitchen is small. It is basically a glorified galley kitchen but that works for me because I live alone and if I cook it's just for me. When I was deciding to buy this house the kitchen was a non-issue because while everything in the kitchen outdated it wasn't outrageously so. The appliances are white and the cabinets are original and the countertops/backsplash/floor are beige… nothing crazy going on. When I moved in a new I would change things but the first phase was going to be paint/decorating.
PHASE ONE FAIL
PHASE ONE (Attempt 2 = SUCCESS)
Next up, Phase Two:
It may be hard to see in this picture but the floor has changed. My next big project is to replace the old peeling linoleum with cork. I'm so excited! I'm thinking it will happen in January so stay tuned.
This is the cork floor I want, it's Lisbon Cork in Rossio. It's hard to tell from this picture but is the exact same color of my hardwood floors so they will blend in perfectly.
Phase Three:
The backsplash and counter tops have got to go.
If you looked past the fancy Pellegrino bottles you can see that the backsplash is 12′ floor tiles. Cost effective but not so cute.
I haven't decided for certain what finishes I want but I'm toying with butcher block counter tops and a white subway tile backsplash. Kind of like this:
This summer while I was in Mexico I went to the oldest church in Cozumel (I know, I know, most people go to the beach, but you can only sit in the sun for so long and I'm more of a historical tour kind of grandma). I was so inspired by the windows in this church.
I love the color combination of green and yellow with the white walls. So why not use that inspiration for the home? Here a few of my favorite green, yellow, and green/yellow things.
Turf clock by CB2. This clock is $89.95 which is expensive but it's huge, as in 30″ huge. I hate the phrase 'bang for your buck' but this may be the very definition.
Spider coat rack from CB2. I love this! Maybe I should get it for my entry way? It is $99.95 which is expensive but you could totally spray paint a coat rack from a yard sale and get the same look.
Hancock clover bookcase from CB2 which is $199. I love this bookcase because of the 'X' supports and because it's such a wonderful color. Again, this something totally DIY-able. It's all about being bold with your color choices.
The End bookend from CB2 for $14.95. I have been in love with this book end for months now, but for whatever reason I just have sprung on it yet. This is a great buy because it is high impact for a low price.
Y by Alistair Frost from 20×200. This print comes in several sizes starting at $24. Such a fun happy print!
Untitled 1 by Cecily Brown from 20×200. I love this pattern.
Lovebird #6 by Luke Stephenson from 20×200. Why I am so attracted to bird prints?
Shadowscape by Michelle Marie Murphy from 20×200. This is a more geometric take on art. Wouldn't this look lovely on a gallery wall?
Intense Jade lamp from Target. This lamp is only $19.99!
Patterned yellow pillow from Target. I'm in love with this pillow and the fact this it's only $12.99 doesn't hurt either.
Green circles rug by IKEA. This rug is 9'x 6′ and is only $99! It would look lovely with hardwood floors showing through.
Janette curtains by IKEA, the pair is $24.99. Such high impact curtains for a low price… which I guess is kind of obvious since that is IKEA's M.O.
IKEA pendant lamp in yellow for $99. How cheery is this light? I think it would make even the gloomiest of people smile.
Have you been inspired by an image or place lately?
As I shared in this post, I have a second bedroom problem. It is a junk room and I don't have any budget to really make it look good. So for the past few days I've been using my brain and a lot of imagination to create a mood board and floor plan to help me make this room less of a nasty pit.
As you may or may not notice from the mood board, I own most of the things on this board which makes it less of a 'mood/inspiration' board and more of a 'creative repurposing' board. Some explanations are below and a numerical chart that is out of order (this may be the most confusing thing ever):
5) I think I finally decided on this paint color which is Anonymous by Behr. I think it is a pretty classic color and will go well with everything I already have.
10) This is my Pod Rug by CB2. It is no longer available because I bought it three years ago. I think it was about $250. It is a really well made rug but it did shed for a year (I think it has finally shed all the excess). The room is pretty much based off of this rug because it is the one thing in there that I want to keep and actually like.
6) This is the Ingo table by IKEA and it's $69.99. It is the one thing on this mood board that I don't already own. I would like to use it as a desk. I would like to paint it a nice shiny white.
7) I own this chair (two actually). This is the Emeco Navy chair and they are super expensive, like $750 expensive. I found two on Craigslist for $30… I'm not even joking. Best. Craigslist. Purchase. Ever.
9) This is my West Elm daybed. It is also no longer available (when it was, it sold for $229 without the mattress). I got it on Craigslist for $150 plust a brand new twin mattress. Craigslist for the win! I intend to put this on my from porch when it is eventually screened in but for now it is nice to have a bed in this room in case someone wants to spend the night.
3) This the my IKEA Linnarp bookcase. It is currently in my bedroom but I don't like it in there anymore. When I eventually get the bookcase of my dreams for my dining room I want to move this out of my bedroom and either sell it or move into the second bedroom. It could be nice for pretty linens and office supplies.
1, 12-14) These four images are all relate to one another. The first #1 is my inspiration. I love this corner gallery. Instead of using frames though I am going to use #12 the stencil I bought this weekend (I'll share where I bought it later this week). The two paint colors are #13 Glowing Firelight by Behr and #14 Night Watch by Behr. I definitely want to use the navy to do the stencil because it will look good against the wall color, but I'm toying with doing sections of the stencil in the orange…Either way I think having the stencil going around the corner (top right of the floor plan) will look really cool.
2, 4, 8,11) All three of these are inspiration images. The first #2, is such a cool idea. They took these large frames and put cork in them so they can be used as cool bulletin boards. I actually have two large empty frames that I want to do this to. I think it will be a pretty cheap project. I also, love the inspiration boards in #11, #8, & #4. They are like big (mostly) free art!
Floor Plan: the door on the bottom left is the door into the hallway and the other door on the top left is the closet door. The thing in between the doors is the bookcase #3. The windows are above the bed and the desk.
So that's my inspiration! Hope you could follow all of that- I am new to the mood board world so I'll get better. Believe it or not I spent a lot of time working on all of this and I'm pretty excited about doing this little (mostly) free makeover. I'm not sure I'll get to it this weekend, but I hope to do parts of it over the next few weeks. Are you planning any mostly-free projects?