Archives For pinterest
This is my bedroom as of September 2013, enjoy!
All photos are courtesy of Ashley a. Photography, thanks Ashley!
This is my kitchen as of September 2013, enjoy!

All photos are courtesy of Ashley a. Photography, thanks Ashley!
This is my living room as of September 2013, enjoy!
All photos are courtesy of Ashley a. Photography, thanks Ashley!
I'm still chugging away on my thrift shops articles (all available to read
here
) which means I'm still trying hard to not spend money every weekend.
Thankfully, this last time I only spend $2.99 on this framed art. It looks small here but it's actually about 18″ wide and 12″ tall. I really like the frame even though it is a little beat up. And let's be honest, this is not the best painting ever painted but it's a sweet little scene.
Right now this painting is just leaning against my bedroom wall but I have a few ideas about how to spruce this guy up.
Idea #1:
Paint over the existing painting with new colors. I saw this on Pinterest awhile back and thought it was such a creative idea. It's basically a play on paint with numbers. It's unique and cheap and could potentially be easy. Although, let's be honest a lot of these types of projects look easy and I over-confidently think I can do it but then I get into the project and… it's a mess. But I'm just crazy enough to keep trying projects like this.
OR
Idea #2:
I actually reference this idea in my last attempt at DIY art (here). I like this project because it is extremely simple. Stick letters on canvas, paint over letters, dry, peel, and done! I'm not sure what I could write on such a small canvas though…
What would you do? I'm leaning toward Idea #1 but I'll see what my mood is when I decide to start this project. For now, it will just be a weird little painting in my room.
In previous 'trend spotting' posts (
here
and
here
) I went with less obvious trends, but this trend is pretty easy to spot. Brightly colored front doors are nothing new but bright orange doors have been popping up everywhere these days. And I have to say, I'm a big fan!
All images via my 'Outdoor Spaces' board on Pinterest here.
It is very possible that I love this trend so much because I can't paint my front door. I know what you are thinking, why can't you paint your front door? It is because I live in a historical home in a historical neighborhood and we are strongly encouraged to leave any original exterior elements as is. My front door is lovely so I shouldn't complain…
but wouldn't my door looks so nice painted a bright orange??? I think it would look amazing, but alas it is not meant to be. So for now I will just dream of orange doors and encourage others to go big and bold with their exterior paint colors.
On Monday, I shared my little dining room corner make-over. Here is the process I used to hanging the large old windows on the wall. 
A few summers ago I bought two large windows. Why did I buy windows? I don't really know. I had a moment where I was feeling very shabby chic-y apparently. Actually, I think I had just gotten Pinterest and I was in that fever of seeing all these new projects with old windows for the first time.
Anyway, for several months the ones I bought just sat around doing nothing. Then I got an idea. What if instead of putting small pictures behind each pane (which is the most common thing people do with windows like this) I printed one large picture instead? I thought maybe it would look a little more modern that way. So I found two pictures from my trip to Paris that I thought would work and had them printed. I used Snapfish and got the pictures printed in the 20″x30″ poster size for $18 each. That seems expensive now but at the time I thought it was reasonable. When I got them I taped them on the back of the frame.
I like the overall look. But the reason it took me so long to hang them is that there was no hanging hardware on the back.
It is just a simple wood frame window but for several reasons I was nervous. For one it is really old window so I wasn't sure how solid the wood was and so I hesitated to drill into it. And secondly these windows are pretty heavy like 15 pounds so knew I needed heavy duty hanging hardware. But you know what, you can't wait around forever so I just did it.
Here is what I did:
1) Measure and mark a spot 1/3 of the way down the frame. My frame was 30″ tall so I marked a spot at 10″ on either side.
2) Screw in hardware. I used these hooks from a hardware store. I screwed them in at an angle toward the center of the frame.
Like I said I was nervous to drill into the old wood but I found that using a screwdriver worked find. The wood was pretty soft (not falling apart soft, just not so hard that I needed a drill) and the screw went in easily.
3) Attach the hanging wire. I used 9′ of hanging wire on each frame. That sounds like a lot but these suckers are heavy and I wanted to be extra careful. I pulled the wire through the loops three times.
On each side I wrapped the end of the wire around all three strands.
After wrapping the end around several times I stuck the end through the last loop to make a sort of knot.
After trimming the ends, the back looked like this.
Admittedly, that looks a little wonky but here I demonstrate how it looks when pulled taut.
4) Put a screw in the wall and hang them up. The rest is pretty basic picture hanging. I measured and marked where I wanted them to hang and then got out my drill. I have plaster walls so I pre-drilled holes and then drilled my screw in.
They've been hanging up for several days now and no major catastrophes so I think they are good! If you are hanging a window in a hallway or somewhere where they might get knocked often I would consider using bracing brackets on the bottom corners. I'm not worried about these since they are in a corner but they can move pretty freely with the hanging wire so just keep that in mind.
Budget Breakdown:
Window – $5
Poster – $18
Hanging hardware – $5
= $28 each (not too bad for a 30″x25″ piece of art!)
Are you into the old window look? Have you ever had to get creative when hanging stuff on the wall?
I'm itching for spring which makes me want to do drastic things. Thankfully, my bank account doesn't allow me to be too crazy but since I am craving change I've compiled a list of zero to low cost home updates. Hopefully doing a few little tweaks around my house will appease me until the sun decides to come back out and stay.
Washi Tape

So washi tape is definitely a thing now. I remember it was about this time last year when I first heard of it. My friend was planning her wedding and she used it on her invitations. I thought it was cool but I didn't think too much about it. Then suddenly, it was everywhere. Washi tape has many uses but I never thought about using it on my walls. Thankfully, there are people out there that are more creative than me to think of it.


Want in on the animal head trend but don't want to pay for it? Done.
I love this door design, mostly because it is graphic and black and white, but also because it isn't permanent and that is a beautiful thing. Maybe today you want a large geometric shape above your bed and tomorrow you will want to frame out pictures with the tape… who knows? The possibilites are endless and all for just the price of the tape itself (between $2-15).
I like the idea of painting the back of a bookcase, but it may be more work than it's worth.
This is a picture of a kids room but you know I'd totally paint stripes on my own ceiling. This project could be free but dang would it be a lot of work.
Don't limit your painting to just walls, I love this door with polka dots. So cheeky.
Or if polka dots are too much for you this little sliver of pink is just enough whimsy to make anyone smile.
I like this sort of circular pattern tucked in a corner.
This is bananas. I love it. Also, they may be more expensive but I highly recommend 3M strips for projects like this. They stick good enough for a long term hold but they won't damage your wall or pictures.
If you are even remotely crafty you probably have random bits of fabric hoarded away some where. Or maybe you have an old shower curtain or duvet cover lying around. Either way you probably have fabric of some kind that can be repurposed as art. Whether framed (I've used fabric as faux picture mats before) or hanging like a tapestry, fabric looks great on walls and if you use what you've got it can be a pretty cheap project too.
I love this big ol' piece of framed fabric. They could have easily used that fabric for pillow covers but framing it is unexpected.
With the aid of an inexpensive curtain rod these two panels of fabric look like a dramatic headboard.
Making your own art can be hard and often more expensive than you planned but here are a few projects that are actually cheap.
I love this image for a lot of reason but mostly for that dark grey wall and the bright yellow branches. So go find a few branches to clip off and spray paint them yellow (or whatever color makes your heart happy) and stick them in whatever vase you have or lay them on top of a bookcase or on your coffee table and then just enjoy them.
I've been obsessed with paper cranes since I was in the 4th grade, I still remember how to make one, so this installation of floating paper cranes makes me very happy. Gather some colorful paper, string, and thumbtacks, watch a YouTube video on how to make a paper crane and bam! You have an awesome art installation.
String art is majorly trending and I can't say I'm a fan, but I do like this one because they just nailed it right into the wall and wove the string around. It's sort of irreverent and I like that.
I'm super inspired by all the creative inspiration boards floating around out there but there is something about this big piece of unfinished plywood leaning against the wall that I really like. It's bold and raw. Bonus points for the use of washi tape and the bulb draped over top.
Good luck trying not to catch seasonal affective disorder!
Do you ever look at Pinterest and see reoccurring trends? Over the past few months I've noticed several pins featuring the Swiss cross. Famous for being on the flag of Switzerland and the symbol for the Red Cross, the Swiss cross is a clean and bold symbol. I love patterns that are strong and simple (like chevron or thick stripes) so the Swiss cross fits right into my aesthetic. Bonus points for it being most often in black and white, my favorite color combination.Let's have a look, shall we?
I can't tell if this backsplash is paint or tile, but either way I like it.
This garland would be a cute and simple way to incorporate this trend.
This is the image that got me thinking about this trend. I love the bright yellow. This would be a basically free project (you could use whatever paint you have on hand) and it would have such a big impact.
This is actually chalkboard paint and they just made little Swiss crosses all over it to give it a wallpaper look. Love it!
I'm not sure if that back wall is wallpaper or a stencil but either way I like it. Double like for it being mixed with the bold stripes.
This is actually an IKEA hack. The medicine cabinet came plain white and they painted a Swiss cross on it. Since this cross is an international symbol of health care it's funny that it's on a medicine cabinet.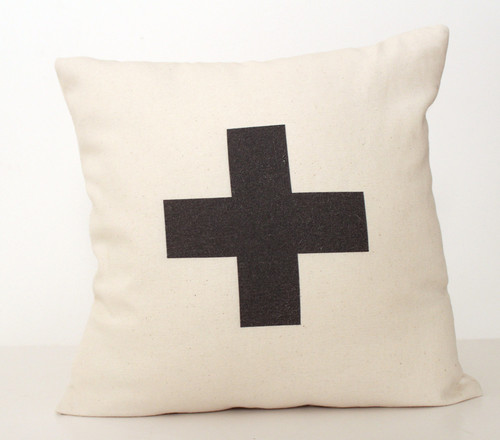 This is one of my favorite interior designs ever.
What do you think? Are you into the Swiss cross? I love it! I'm going to keep my eye out for something with the symbol on it or maybe just I'll make something that features the cross… or maybe I'll just go to Switzerland. Anything could happen!
Sometimes when I talk to people about this blog they say, "Aren't you going to run out of projects at your house to blog about?" Because my house is small and for the most part completely decorated, I understand their question, but the answer is always 'No.' A few weeks ago I did a post showing the 'before' and 'current state' of my house where I listed out what I've accomplished so far and what I hope to do in the future, but that isn't where the list ends. I don't consider myself an artist, but allow me to use the analogy that I'm an artist and my house is my canvas and for that reason I don't think I'll ever be able to consider this house finished. So here is a run down of what looks done but in my mind is not done and may never be.
Bedroom bookshelves:
I'd like to get a parson's desk and add a large cork board or art above it. I haven't had a desk in years and I don't need one to sit at, but it would be nice to have a place to organize and store 'officey' stuff. But we'll see, I'm always changing my mind about this sort of stuff.
The Living Room Tables:
If you count, there are two side tables and a coffee table in here and I hate them all. Actually that's not true, I hate two out of three. The left side table is Lack table from IKEA that cost $7.99 and it serves it's purpose but it's boring. The coffee table was $30 on clearance from IKEA and I feel the same way about it. I like the table on the right because it's from CB2 and it opens up like an old school desk but it looks sort of weird where it is. I like the mismatched look (they are all different styles but since they are all white they work together) but I'd like to upgrade in the future.
Maybe a coffee table like this?
And maybe something like this for a side table?
Or this?
What I have now is just place holding for better stuff so I'm always on the look out for a the perfect replacement.
TV Stand Area:
I love this dresser and the lamps and the harp and the TV, but how it is set up now is a little bland. My plan is to hang the TV (I have the mount I just haven't attempted to do it myself yet) and possibly hang art around it, like this:
Or this:
Considering I already have the TV mount this project should be completed soon but I've had it for over two months now and it hasn't even made it to my to-do list so maybe not.
Dining Room:
Things I hate in this room: dining room table, gallery wall, wall color, and IKEA credenza.
Things I love in this room: postcard art, light fixture, and the curtains.
I'm thinking about painting the room a lighter color and simplifying the gallery wall and since I can't afford a new table maybe I'll get a tablecloth or something. I'm thinking of going with a lighter color like this:
Or this:
Do you feel the same way about areas of your house? Or am I just too picky?
I really hate to break it to you but chalkboard paint is sort of a sham. Don't get me wrong, I love the look and I don't regret painting a chalkboard wall in my kitchen but it is only a "chalkboard" in the sense that IKEA furniture is "wood." At least that is what I've been thinking since I painted it about six months ago (here).
Remember those green chalkboards from elementary school? I loved those. I especially liked it when my class job was to de-chalk the erasers which involved just going outside and banging them together so that the dust flew everywhere. There is no comparison between a real slate chalkboard and something painted with chalkboard paint, but I finally figured out a few tricks to make mine work better.
The problem I was having is that whenever I tried to erase a message it doesn't really erase. See how you can still see my previous message underneath the current one?
Here is what it looks like after I tried to erase (with a dry paper towel):
Yeah not great. Because I've had this problem I've only changed the message like three times in the six months since I painted it. Frustrated by this I decided to actually spend 15 minutes and figure out what I was doing wrong and amazingly I did figure it out.
Here is out to properly use a chalkboard painted wall:
Prime it with chalk.
When you first paint the wall the directions tell you to 'prime' it which basically entails rubbing a piece of chalk all over the wall. It seemed weird and pointless but I did it.
Side note: Chalk gets everywhere while doing this and I read somewhere that folding over a piece of painters tape will help catch some of the dust. It actually did help a little bit, but not a ton. 
What I did originally was prime the wall with chalk and then I completely wiped it off. That seemed like a reasonable thing to do, but it is the wrong thing to do. Instead of wiping the chalk off completely you just sort of rub it around until it's smoky looking.
I also thought priming it was something you did once, but in order for it to work properly you should prime it whenever the wall looses this smoky look. If your wall looks smoky like this you can write and erase and write again and it works!
* So chalkboard paint actually does work… if you use it properly! Who knew?
Here is a side by side showing what to do and what not to do:
Also, if you ever do make yourself a chalkboard wall let me be the first to tell you that it is really hard to find chalk. I looked everywhere! I finally found colored chalk a few months ago, but I really wanted white so I kept looking. I finally found some last week so I was happy. I guess the best place would be to go to a teacher supply store or something but whose got time for that? I finally found some at Target which I'd looked at several times before but this time they actually had some in stock.
Also, I copy all my messages straight from the Pinterest 'quotes' category because I'm super original.
The end!